All of a sudden, the urge to get away from it all becomes an itch you want to scratch. You may seek relaxation in a beautiful place or adventure in the mountains or culture in the city. Your organization may want to hold a retreat. Here's a roundup of Montana lodges, each with its own unique history and great accommodations.
Let's start in southeast Montana:
Dude Rancher Lodge, Billings
For many people when they go to Billings, whether it's for a special performance at the Alberta Bair Theater, shopping, or even a doctor's visit, the Dude Rancher is their first choice.  Near the Yellowstone Art Museum, top restaurants, and the airport, the Dude Rancher makes staying in Billings and seeing its attractions easy.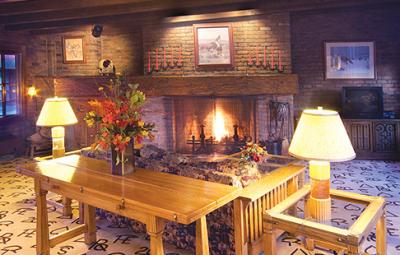 Resembling a frontier ranch house, the place charms with its rustic style and clean, comfortable rooms. The interior is designed with knotty pine paneling, decorative lampshades, western-style furniture, and carpeting adorned with brands of local ranchers who originally invested in the property. The attached, full service Stirrup Coffee Shop serves all meals and specializes in comfort food. Annabel and Percy Goan opened the Lodge in the 1950s during the post-war oil boom but since 1992 the owner has been Virginia Karlsen. The Lodge has recently been added onto the National Register of Historic Places, which means it serves as a valuable link to the country's past and is one of the major iconic Montana lodges. 
The Dude Rancher is located at 415 N. 29th St., Billings.  (406) 259-5561.
See www.duderancherlodge.com.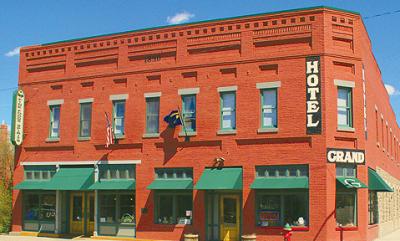 Grand Hotel, Big Timber
Between Billings and Bozeman lie Big Timber and the Grand Hotel.  Also on the National Register of Historic Places, this hotel was built in 1890 when the Northern Pacific Railroad ran through town. Sheep rancher Jacob Halverson put up $20,000 for its solid masonry construction. Then the place became a haven for ranchers, miners, and other travelers. In 1908 when a fire swept through other buildings on McLeod Street, the Grand stood strong. Now the Grand is the main attraction off the Interstate. Big Timber is a good place to rest when you want easy access to the Crazy Mountains.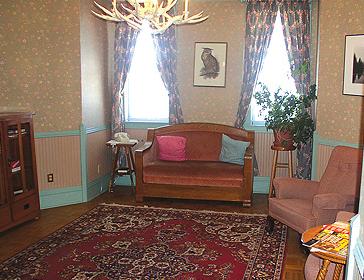 Not a well-kept secret, travelers love to stay at the Grand for the weekend and dine in the gourmet restaurant with excellent wines.  The Hotel features a sumptuous Sunday brunch and an 1890 saloon for stylish relaxation.  An icon lodge, don't miss this treasure.
The Grand Hotel is located at 139 McLeod St., Big Timber.  (406) 932-4459.
See www.thegrand-hotel.com.
Canyon Ferry Mansion, Townsend
Located opposite Canyon Ferry Lake and adjacent to the Missouri River Wildlife Refuge (known for its 67 bird species, antelope, fox, Sandhill Cranes, and more), this is a most romantic place just 30 minutes from Helena and an hour from Bozeman.  The luxurious white mansion was once the home of famous railroad contractor, entrepreneur and "King of the Hereford Kings" A.B. Cook.  Built in 1914, the mansion was restored to its original elegance in 1999 by owners Steve and Sandy Rose.  Antiques, historic wallpaper, and sports lodge furnishings offer elegance and warmth in a peaceful setting.
With more services than other Montana lodges, here you can enjoy spa services, have a private cabin, sit by one of four large fireplaces, and order an ice cream dessert before bed.  Murder Mystery weekends, weddings, and retreats take place here. 
Packages for two range from $109-$495/night and involve choices of room, luxuries, spa treatments, free fudge, fresh flowers, and other treats as well as breakfast and dinners.  Group rates are available.
Canyon Ferry Mansion B&B is located at 7408 Hwy 287 N., Townsend.
(406) 266-3599.  Email [email protected] for info.  Explore www.canyonferrymansion.com  and prepare to be enticed.
Lone Mountain Ranch, Big Sky
Now if you want to stretch your muscles, here's the place to go for a winter vacation centered on top-notch cross-country skiing.  Ski over 90 kilometers of groomed trails or snowshoe on 20 kilometers of the pure white under bluebird skies.  A short distance away are the downhill ski hills of Moonlight Basin and Big Sky Resort.  The Ranch offers children's programs and excursions to Yellowstone Park where you can x-country ski some more.  If some of your group doesn't ski, they can winter fly-fish or go dogsledding.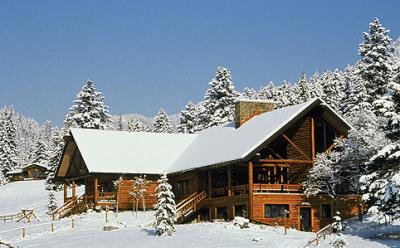 At the Glide & Gorge event March 6, 2011, gourmet appetizers, soups, entrees, desserts, and beer are served all afternoon.  That's right, you can ski and eat to your heart's content.
Lone Mountain has taken care to preserve the original log structures from 1926 and maintain its authentic western ethos.  It too is on the National Register of Historic Places and the list of historic Montana lodges.
Lone Mountain Ranch is located at 750 Lone Mountain Ranch Rd., Big Sky. (800) 514-4644.  See www.lonemountainranch.com for its seasonal vacations and to request a brochure or DVD.
Sacajawea Hotel, Three Forks
In the early 1900s the Sacajawea Hotel sat opposite the train depot.  In 1980 the train tracks were pulled up but the fine old hotel, designed by Bozeman architect Fred Willson, has remained a fine place to stay.   Traces of its past can be seen in the parlor but all the rooms, including the dining room (Pompey's Grill), have been stylishly remodeled.  The modern bar is made of reclaimed century-old trestle wood that spanned the Great Salt Lake.  Now the hotel is owned by Dean and Hope Folkvord, who also own the famous Wheat Montana bread products company in Three Forks.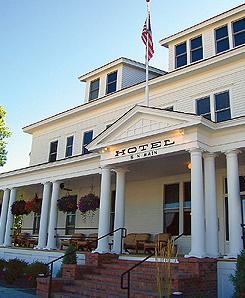 A popular story told around the hotel concerns the time when Kathleen and Ralph Wilcox, who had met in kindergarten,  planned to spend their wedding night at the hotel.  Her father called the desk and said the couple was not married.  An angry Ralph ran home to fetch their marriage certificate. However, the forgiving couple returned to celebrate their 66th wedding anniversary at the hotel. It is among the oldest of Montana lodges.
From Three Forks you can easily venture down to the art galleries of Willow Creek or marvel at the confluence of the Madison, Jefferson, and Gallatin rivers at the headwaters of the Missouri. I
Sacajawea Hotel is located at 5 N. Main, Three Forks, (406) 285-6515. 
Check www.sacajaweahotel.com for a listing of regular musical events.
Goldsmith's Bed & Breakfast, Missoula
Situated on the Clark Fork River, four blocks from downtown and near the University, Goldsmith's is great for taking advantage of Missoula's shops, restaurants, and cultural amenities.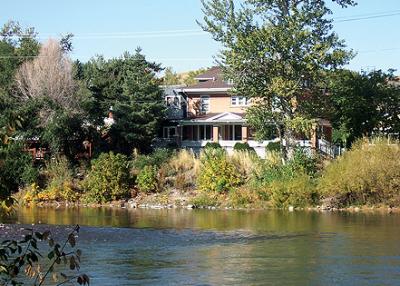 The inn was first built in 1910 and used as a home for the University of Montana's second and third presidents. In the 1950s it was purchased by the ATO Fraternity and served as their house until the late 1960s.  By the late 1980s, after the house fell into disrepair Dick and Jeana Goldsmith took over, moved the house to its current site, and reopened it as Missoula's first B&B in 1989.  They also helped found the Montana B&B Association.  
Now this seven-room, picturesque house offers Victorian charm and modern convenience.  It will celebrate its 100th birthday in 2011.  Travelers get a gourmet breakfast with protein and veggies, which they can eat while facing the river and Bitterroot Mountains.  
Goldsmith's is located at 809 E. Front St., Missoula. 
(866) 666-9945 or (406) 239-7696, www.Goldsmithsinn.com.