In the media consulting work I do for the Whitefish Convention & Visitors Bureau, I have the fun task of putting press trip itineraries together for travel writers who visit the town. So when the editor of this magazine asked me to detail an insider's guide to Whitefish in summer, it got me thinking—how much could you pack into one day? With more than 16 hours of daylight—and plenty to do in the dark—here's a look at a wild 24 hours in Whitefish.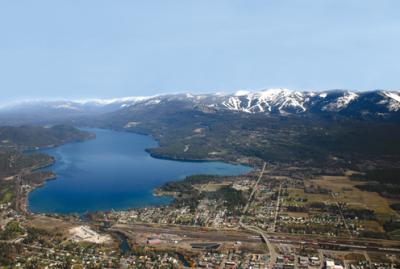 Golf Whitefish
Sunrise: 5:36 AM – Tee off
That's right, we're teeing off at sunrise, first on the course. The 36-hole Whitefish Lake Golf Club course offers fabulous mountain and lake views. Every year, Whitefish continues to become better known as an incredible and affordable golf destination and has been rated one of the "50 Greatest Golf Destinations in the World" by Golf Digest. 
The fairways are lined by magnificent pine and birch trees. The log clubhouse was built in the 1930s from logs harvested from the property and houses one of the best restaurants in the valley along with a fully stocked golf shop.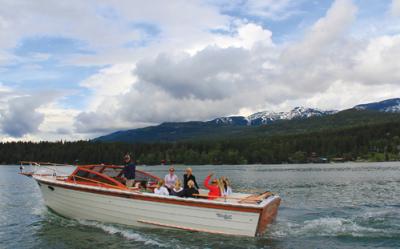 You Gotta Eat!
7 AM: Breakfast at Loula's
When a PBS film crew recently spent a week in Whitefish, the star of the show was not the dramatic scenery—it was the extraordinary dining and food experience made possible by local farmers and chefs working together. "The Endless Feast" aired on PBS stations nationwide.
After our nine holes, we've eaten Lemon Stuffed French toast with raspberry sauce and Eggs Benedict with white truffle oil. We're crazy—so we topped it off with some of Loula's famous Huckleberry pie.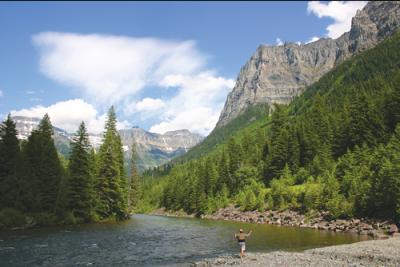 Whitefish Lake
8 AM: Rent a boat from the Lodge at Whitefish Lake
Nestled at the edge of Whitefish, the lake is all that remains of an ice age glacier that flowed across the area. Today the lake is great for water sports. After renting a power boat from the marina (they offer canoes and sea kayaks too), we cruise around to the three primary public access points. City Beach is sandy, with a large roped swimming area. Les Mason State Park is on the quieter, wilder northeast side of Whitefish Lake. And Whitefish Lake State Park provides a picnic area, camping sites, swimming area, and a boat launch on the undeveloped western shore. We even jump in for a quick water ski session before docking the boat.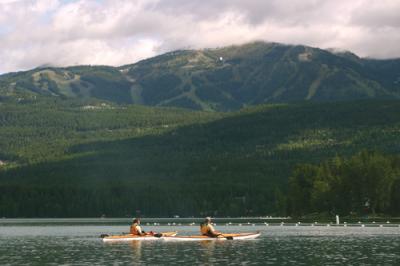 Summer at a Ski Resort 
10 AM: Zip Line Tours
What happens when the snow melts? While the wildflowers bloom, adventure is in full color at Whitefish Mountain Resort. Just 10 minutes up the mountain road from town, we've driven to the mountain village, and are strapping on a paragliding-style harness, clicking into the cable trolley, and we're flying on the Zip Lines. The tours include up to six separate spans, carrying thrill seekers more than 300-feet off the ground at speeds up to 50 miles-per-hour.
After our 1.5 hour zip tour, we have time for a quick Alpine Slide ride: We grab a sled, ride the short chair lift to the top of the course, and race down, controlling speed through straight-aways and around banked curves. Another time we'll come back to ride a chair lift or gondola to the summit of Big Mountain on a 15-minute scenic ride from the Mountain Village. Walk in the Treetops lets you experience the canopy of the forest from a boardwalk up to 70-feet above the forest floor. And The Danny On Trail starts in the village and winds 3.8–5.6 miles for a hike through forest glades, huckleberry bushes, and wild flower meadows to the summit.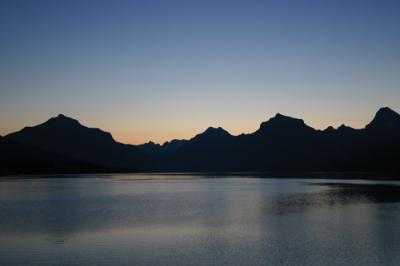 Kick Around Downtown 
1 PM: Get Naked (Noodles)
Many people could spend a whole day exploring the charming town of Whitefish. The covered sidewalks of Central Avenue are part of the character. A stroll reveals a vibrant mix of traditional businesses like the family shoe store, barbershop, hardware store, and sport shops — interspersed with restaurants, a variety of bars, coffee shops, a brewery, Broadway-caliber theatre, art galleries, and gift shops. 
We only have an hour, and we're starving! So it's time for a quick lunch at The Naked Noodle —Whitefish's newest restaurant (the green curry rocks). Visitors with smart phones can download the "Whitefish App"—it'll pinpoint all the restaurants and other cool places like Yoga & Wellness Centers or check out the WAVE Aquatic and Fitness Center.
Feeling artsy? Stumptown Art Studio is a nonprofit, community-supported art studio right downtown. Supplies for glass fusing, ceramic painting, and mosaic making are provided daily or try a workshop on precious metal and clay, encaustic painting, or furniture making. "Windows on Whitefish," (WOW) will be a permanent mosaic mural of four 6 x 9-foot windows designed to represent the four seasons of Whitefish and the variety of components that make it a one-of-a-kind community.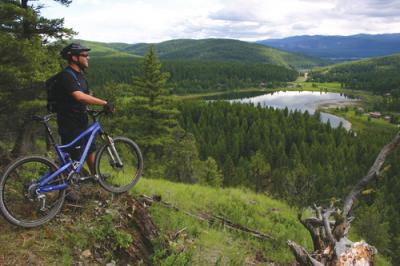 Biking
2 PM: Rent bikes from Great Northern Cycles
or Glacier Cyclery.  
Look for bike icons on the maps around town for suggested routes on the bike and pedestrian paths. But we're headed for the new Whitefish Trail! 12 miles of new trails opened in 2010 for hikers, bikers, runners, skiers, and equestrians. Ongoing additions to this conservation and recreation project will develop a trail system consisting of 55 miles over the next five years.
Okay, we only have time for that one sweet ride up to the scenic loop and down through the cliff section. On another day we could try a plethora of other mountain biking destinations like the freeride features at Spencer Mountain, the single-track out at the "Pig Farm," or we could even hit more than 40-miles of trails back up on Big Mountain.
If we had more time, we could jump on a horse. Both Bar W Ranch and Gaynor's River Ranch saddle up friendly horses for your ride with experienced and colorful wranglers.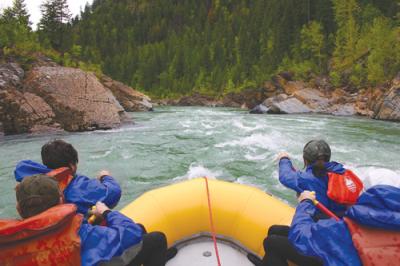 Whitefish Farmer's Market
5 PM – Hit the Farmer's Market
Every Tuesday during the summer from 5 to 7:30 p.m., the Downtown Farmers' Market is thriving with over 150 vendors of local products, live music, and handcrafted items. The north end of Central Avenue adjacent to Depot Park is blocked off for the weekly festive event. The FarmHands group produces a map identifying the working farms of the Flathead Valley, strengthening the natural bond between farmers and consumers. 
In Whitefish, Nightlife Matters
7 PM – Dinner, Theatre, and a Nightcap
Whitefish is a small mountain town that will exceed your dining expectations. To the local chefs, good food and great wine lists are not only their business and livelihood, but also their creative expression. I'm thinking sushi. No, Cajun. Mountain Mexican? Italian? Some French flair? Or a good ole steak?
After dinner, let's catch a performance. The Whitefish Theatre Company has celebrated over 30 years as a nonprofit, community-based performing arts organization. The O'Shaughnessy Cultural Arts Center hosts professional plays, comedy, musicals, concerts, and classic and independent films. Housed in the newly restored Central School Auditorium, the Alpine Theatre Project is Montana's only professional equity summer theater, and is billed as "Broadway's Second Home." 
Plus, the first Thursday of each month (May–October) brings a special opportunity to explore the town's 13 art galleries with Whitefish Gallery Nights. 
After breathtaking experiences by day, the adventure continues with relaxing—and sometimes boisterous—hospitality by night. The many bars and saloons in Whitefish offer you a taste of their own adventurous personalities….and even a little small stakes gambling.
9:43 PM – Sunset
After the show, we sip on a craft beer in the tasting room at The Great Northern Brewery next to the vats that ferment them, watching the light begin to fade to a hazy blue over the Whitefish Range as pinpoints of sparkling starlight poke through the sky near 11 p.m.
Okay…maybe a little more time would be nice. I mean, life is busy—why rush your vacation? 
Wait, what's that? The northern lights dancing in the night sky? Or am I just dizzy?