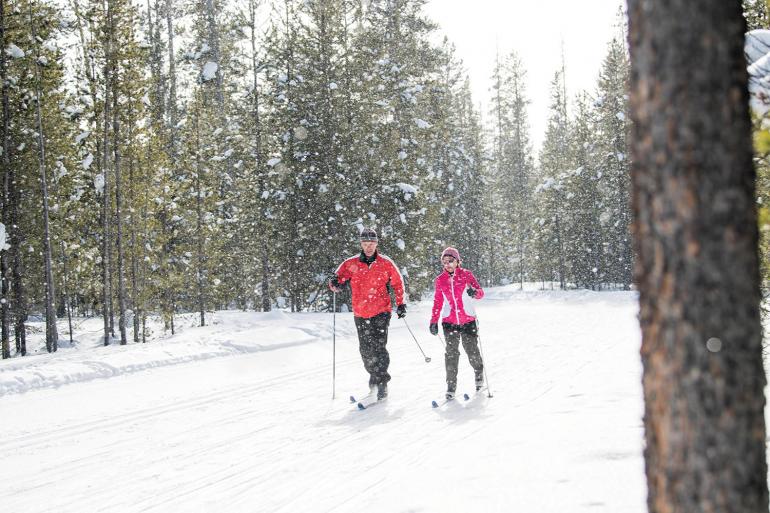 Montana has a well-deserved reputation for long, cold, snowy winters. The last few winters have started about November 1st with snow that has fallen heavily and stayed around. Winter often seems to last well into April in Big Sky Country. 
Given the six months of snow and cold, many Montanans embrace winter rather than hiding from it. The winter world can be spectacularly sparkly, with snow draping the trees and blowing in long banners off the mountain tops. The air is crisp and bracing, and the sky on clear days extra blue.
One of the best ways to get out and get active in the frozen season is Nordic skiing. Also known as cross-country skiing, this activity is considered some of the best all-around exercise you can do. Plus, it's a lot of fun! Kicking and gliding with your friends or family through the snowy woods and meadows, along partly frozen rivers, snow falling gently, animal tracks etched in the snow, frosty mountains rising nearby… it's pretty hard to beat. And you don't have to be an Olympic athlete to enjoy it.
Nordic ski equipment is easy to come by and not too expensive. Basic gear will take you a long way. You can choose your method—fast and aerobic skate skiing, or slower but plenty strenuous classic-style kick and glide. 
Southwest Montana boasts some of the best Nordic skiing in the known universe. Groomed trails make your ski experience easier and more accessible. You usually have to pay for that privilege, but free skiing is available wherever there are snow and public trails. Here are some, by no means all, of your options for Nordic skiing in the area.
1. Rendezvous Ski Trails
West Yellowstone is a winter paradise with quick access to ski trails in Yellowstone National Park and the Custer Gallatin National Forest. The high elevation (6,600 feet) and snowy climate often brings some of the earliest reliable snow in the nation, with ski trails usually well covered by Thanksgiving weekend, when the Yellowstone Ski Festival takes place. The Rendezvous Ski Trails start on the south edge of town and cover more than 35 kilometers of groomed trails through snow-covered pine forests. These trails are buffed out frequently and the terrain is friendly to all levels of ability, from beginner to Olympian. You can also ski from West Yellowstone into Yellowstone Park on the Riverside Trail near the Madison River, where you might spot Trumpeter swans or otters in the river.
2. Fawn Pass and Bighorn Pass trails
Along the Gallatin Highway (Route 191) in Yellowstone's Northwest corner are two plowed trailheads for winter access. The easy terrain, abundant snowfall, and wide-open meadows make for wonderful (and free) cross country skiing. Bighorn Pass is my favorite since it takes you along the scenic and peaceful upper Gallatin River. You can ski a 10-mile loop by connecting Bighorn Pass and Fawn Pass trails. Bacon Rind trail is also skiable, across the highway from Fawn Pass Trail. These trails are NOT groomed so you should plan on variable ski conditions and be prepared to break trail.
3. Crosscut Mountain Sports Center
Only 17 miles from Bozeman, Crosscut is a favorite for Nordic ski loving locals. It's also home to the Bridger Biathlon club, for that special breed of skier who also embraces target shooting in the sport of Biathlon. Crosscut Ranch combines the old Bohart and Crosscut Ranch properties for a spectacular set of Nordic ski trails close to the base area of Bridger Bowl ski resort.
Crosscut offers staggering views of the Bridger Mountains from its open meadows. Other trails wind deep into the forested foothills. I have seen moose here, as well as many other critters which leave their own sets of tracks in the snow. 
The diversity of terrain is one of the draws of Crosscut. Try a lap on Logger's Loop to really limber up and escape the rat race. Or cruise the easy meadows and aspen groves at the south end and dig on the great views of Bridger Bowl.Crosscut has big plans for a new lodge and expanded Nordic facilities. They also offer trails for fat bikes and snowshoers and welcome dogs on their trail after 3 PM on Monday, Wednesday and Saturday. Rental equipment and ski lessons are readily available.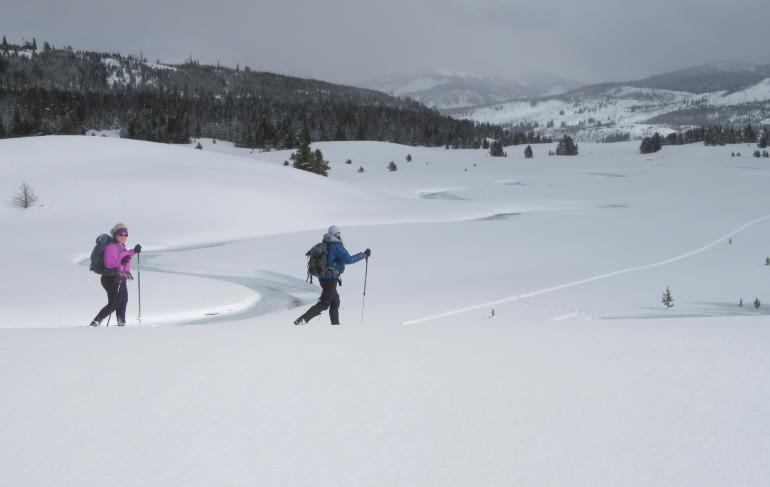 4. Homestake Lodge
Perched on the Continental Divide between Butte and Whitehall, Homestake Lodge offers more than 35 kilometers of plush ski trails. Granite outcrops, aspen, and pine forest add to the high mountain atmosphere of the place. You can rent a cabin or a yurt and spend the night, or bring a big group and stay at the main lodge. Lunch and dinner are served by owners, Chris and Mandy Axelson. Homestake has 15 km. of dog-friendly trails so bring the pups! Rental equipment is available as are lessons. And if you stay late, you can even night ski!
5. Hyalite Canyon
The glacially carved Hyalite Canyon, south of Bozeman in the Gallatin Range, is a world-class winter sports destination. Over 35 kilometers of groomed ski trails wind through the woods and meadows and along Hyalite Creek and Reservoir. Bridger Ski Foundation and the US Forest Service groom these trails. Hyalite Canyon Road is plowed all winter thanks to Friends of Hyalite. Be cautious on this road since it is not salted or graveled and is very steep and curvy. 
Several trailheads give access to the groomed trails, including Lick Creek, History Rock, and the Hyalite day use area. You can ski a loop all the way around the reservoir. Some of these trails are pretty hilly, and most are intermediate level. Try skiing to the meadow next to Window Rock Cabin, or below Maxey Cabin, for stunning views of the 10,000-foot Hyalite Peaks.
6. Lone Mountain Ranch
Located near Big Sky Resort in the Madison Range, Lone Mountain Ranch has been rated the #1 destination in North America by Cross Country Skier Magazine. This is a full-service Nordic ski destination known for excellent snow and superb trail grooming. The ranch was homesteaded in 1915 and now features 27 guest cabins. Meals are available at the Horn and Cantle restaurant. The ranch staff groom a phenomenal 85 kilometers of ski trails. Be sure to stay for a sleigh-ride dinner!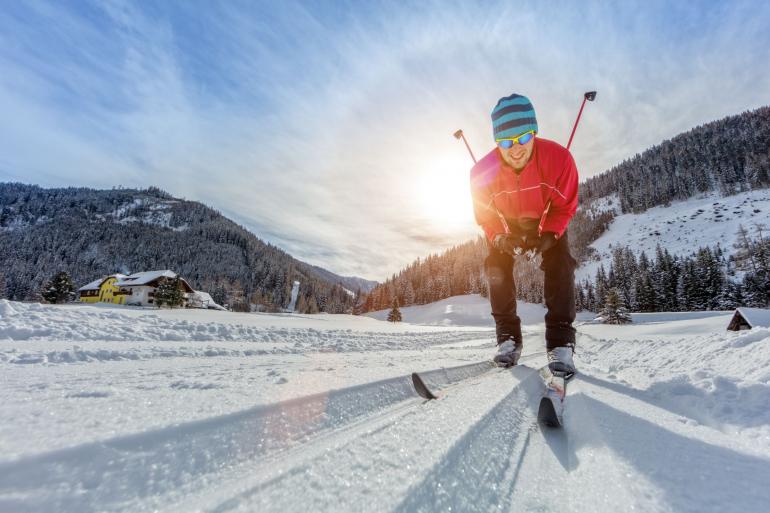 7. Bridger Ski Foundation Bozeman trails
Bozeman is often blessed with snow cover for four or five months of the year. The Bridger Ski Foundation maintains a vast network of in-town ski trails at Bridger Creek Golf Course, Highland Glen, and Sunset Hills. A voluntary $50.00 ski pass covers you for all the Bozeman, Sourdough and Hyalite trails for the winter—truly a bargain given that most Nordic ski resorts charge at least $20.00 per day.
Bridger Creek has the easiest trails with mountain views and cottonwood forest along Bridger Creek. Sunset Hills is a favorite for skate skiers and is often busy with BSF youth groups training for races.
Highland Glen has a quieter vibe and rolling terrain with a few steep hills. On the south edge of the Gallatin Valley you'll find the Bozeman Creek/Sourdough Canyon Nordic ski trail, which gets groomed for 10 miles, all the way to Mystic Lake. 
Wherever you ski, Montana's big skies, abundant snow and peaceful outdoor world will soothe your soul and the kick and glide will tone up your body. Grab a friend and your skis and hit the trails this winter.
Come Play Outdoors!
Montana's Newest Venue for Mountain Memories
Wintertime fun includes:

50 km of Trails for Cross Country
Skiing and Snowshoeing
Fat Biking
Biathlon teams for
all ages over 10 years old
Lessons and Clinics
Tuesday Women's Club
School education programs on skis
NCAA Championship in March
Visit Crosscut Mountain Sports Center at https://www.crosscutmt.org/