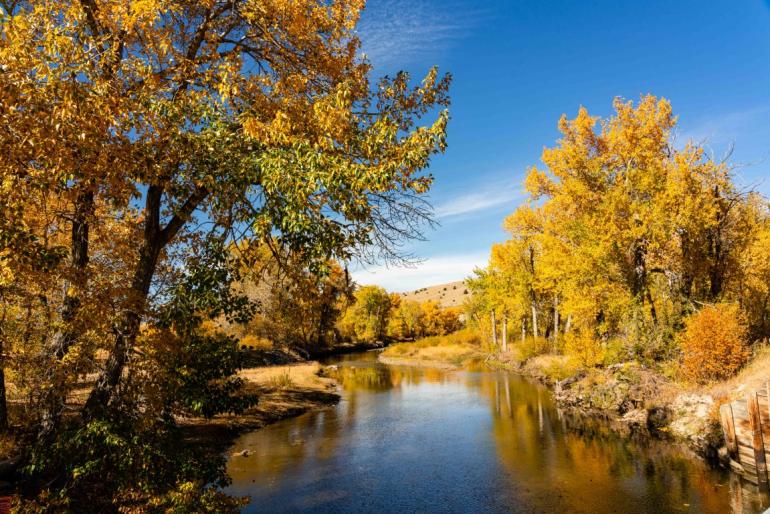 Montana's Rocky Mountain Front lies to the west of Highways US 89 and 287 from the southern border of the Blackfeet Reservation to south of Augusta. It is where the northern Great Plains meet Rocky Mountains in a dramatic convergence of cliffs and rolling grassy hills. It is one of the most biologically rich regions in the US, providing exceptional habitat for a wide range of birds and animals. All the animals found here by the Lewis & Clark Expedition, with the exception of bison, still roam free here.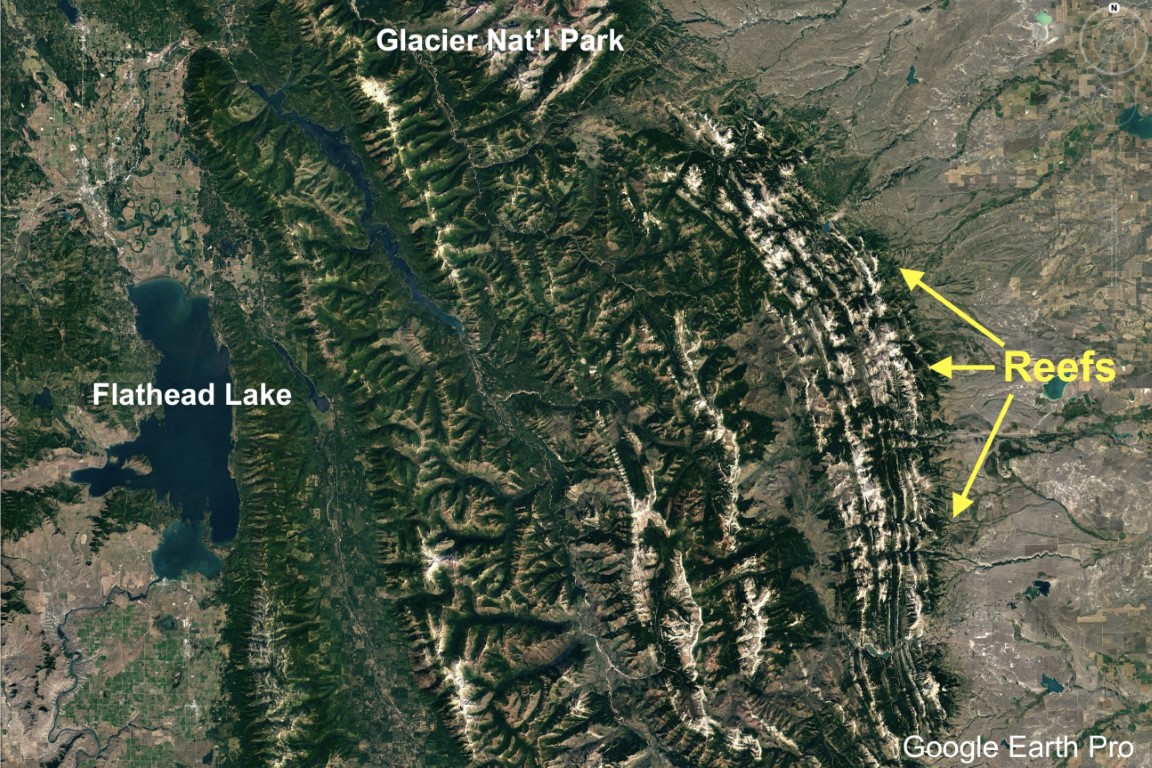 Behind this Front lies the famous Bob Marshall Wilderness Complex (Bob Marshall + Scapegoat + Great Bear Wildernesses), a truly epic wilderness of over 1.5 million acres spread across 4 National Forests. The eastern half of this vast area is characterized by the many "reefs" it includes. These are east-facing, uplifted escarpments of limestone, which, yes, probably are partially made up of ancient coral reefs. The most famous of these is the Bob's "Chinese Wall" - a massive rock face that rises 1,000 and stretches for over 12 miles along the Continental Divide. However, there are others, too. Prairie and Walling Reefs being two of the more well-known, with others, such as Volcano Reef and Castle Reef spilling out to the east, outside of the Bob. A Google Earth view shows these as ribbons or waves of mountain ridges. It is these reefs that make up the impressive vistas of Montana's Rocky Mountain Front.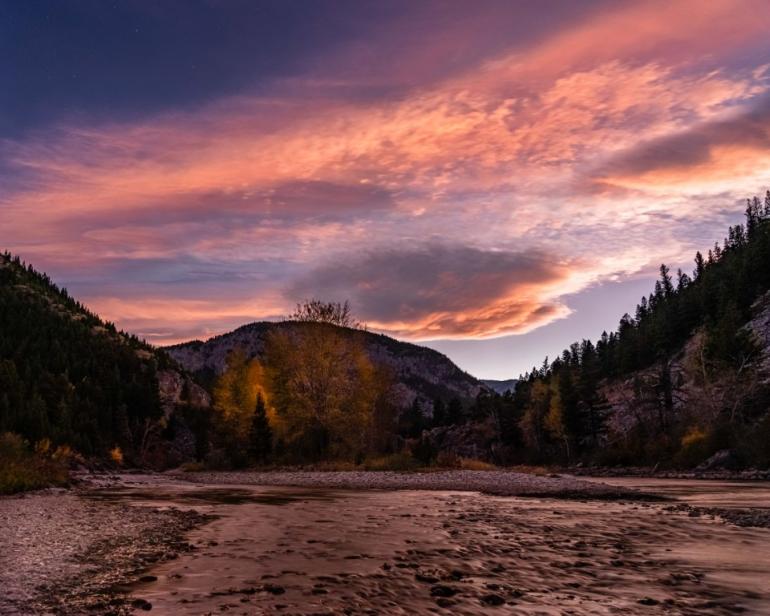 From the road, this dramatic scenery invites investigation and exploration. Rivers, such as the Teton, Sun, and Dearborn, all lined with cottonwoods, flow out of the Bob, and form natural access routes for Bob-bound expeditions. However, there is much more here to explore than only The Bob.  
The Bob is actually set back a ways from the Front with a National Forest buffer zone having its own set of trails along the river bottoms as well as access to the tops of the reefs. If that wasn't enough, in Front of that, there are also several Montana State Wildlife Management Areas (WMA), such as Blackleaf, Ear Mountain and Sun River WMAs, as well as 6 BLM Outstanding Natural Areas (ONA) along the Front. These all work together to form an integrated patchwork to help protect the incredible diversity of species, both fauna, and flora, as well as make them available for public use, for activities such as wildlife viewing, hiking, fishing and general appreciation of this truly unique region of our state.
Of all the seasons to visit, Spring/early Summer and Fall are probably the best. 
Spring offers fresh green grass, an abundance of wild flowers and migrating wildlife, while fall provides all the colors of that season – down low, the yellow of the river bottom cottonwoods to the aspens and other flora up high.
I recently had the pleasure of taking a quick autumn trip down the Front. It certainly lived up to its reputation for beauty, and I really wished I could have spent more time there. I was fortunate enough, though, to catch many of the cottonwoods and aspens in full fall colors. In the process, I also learned something else about this area. It is prone to high winds, so high profile vehicles, like large RVs, should check the weather ahead of time. It howled all 3 days I was there!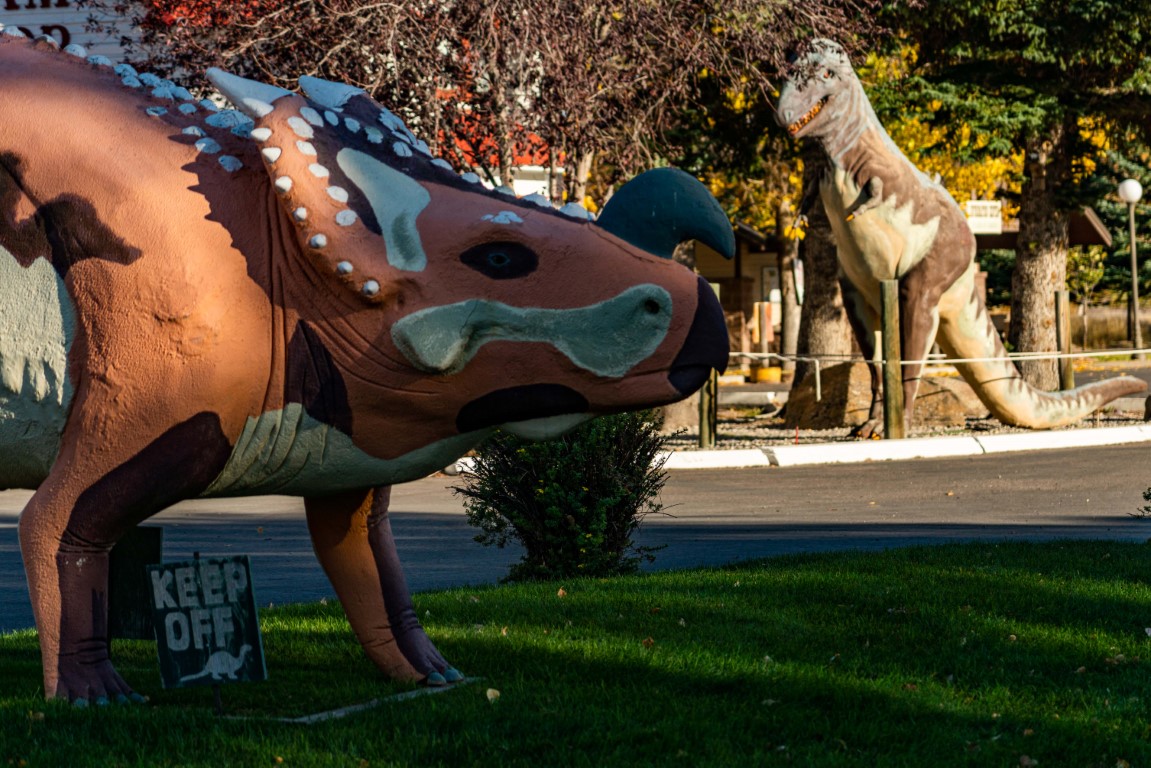 I learned something else, too. Dinosaurs live in the towns of Bynun and Choteau – or at least they did millions of years ago. There are museums in each town dedicated to nearby fossil finds. In particular, the Two Medicine Dinosaur Center in Bynum will even take visiting laypeople out on digs with their experts. Trips can be booked through their website. Both museums belong to the Montana Dinosaur Trail - a series of fourteen dinosaur-themed museums, state parks, and other attractions in twelve communities located in the central and eastern regions of Montana. It starts with Choteau and Bynum in the west and stretches east to museums in Glendive and Ekalaka.
Even by Montana standards, I was really struck by the beauty of this area – so much so that I am planning to return in early May next year and planning to spend the extra time it deserves to get to know it better. 
I think hiking some of the trails and photographing the wildflowers and wildlife will certainly be on the itinerary. 
I hope you'll join me in exploring this wonderful treasure!