"The rain is Tess, the fire's Joe, and they call the wind Mariah." So go the lyrics written by Alan J. Lerner for the song "Mariah." All three are feared for their destructive powers and welcomed for their rejuvenating forces. Yet, they play prominent roles in shaping Montana's landscapes and ecosystems.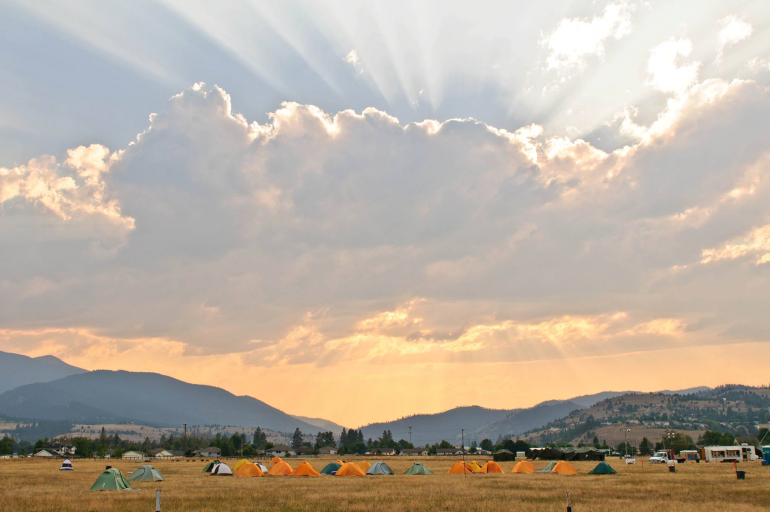 Last summer, Joe came calling to the Bitterroot Valley. In mid-July, a fire started on the back side of Lolo Peak, deep in the wild and well beyond human interventions. It stayed there, quietly eating the brush and clearing the forest floor, and drawing some attention with its small plume of smoke, but not causing alarm. Then Mariah appeared. She whipped the flames into a fury, sent it to the tree tops, and blew it over Lantern Ridge. What began as a small wilderness fire was suddenly a roaring monster racing towards highways and towns, filling the valley with thick smoke, raining ash, and sending people scurrying to move livestock and protect property. Everyone mobilized.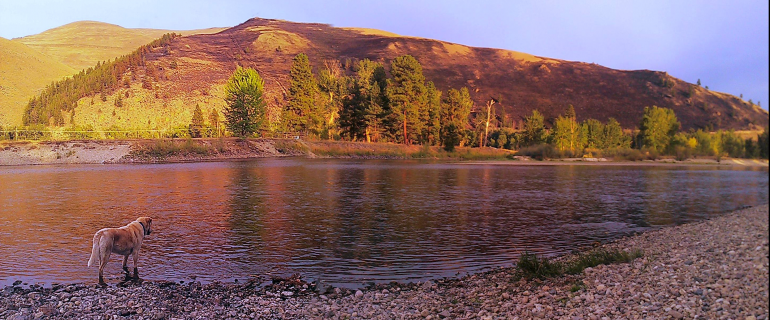 Dunrovin Ranch knew exactly what to do. This was not Dunrovin's first fire drill, nor will it be its last. Over the years, Dunrovin has learned valuable lessons about facing the imminent dangers of fire. The two most important tenets of dealing with wildfire are to help each other and start early. Fires are community affairs. Cohesion is essential to ensure safety and prevent property losses. Especially important when dealing with livestock. Evacuating animals takes time; and it takes even more time if you are in a hurry. Animals know when you are amped with fear or excitement and that is exactly when they become uncooperative.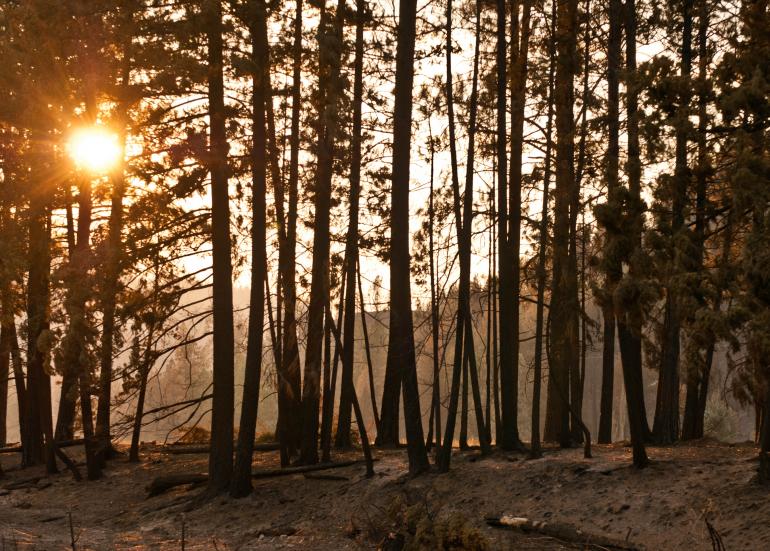 New York Times bestselling author, James. Lee Burke, knows and follows these tenets. At the first sign of the fire creeping out of the wilderness and heading north, he called us to pick up his three horses and take them to Dunrovin for safe keeping. He has a lovely mountain ranch that is surrounded by forests and up a narrow gulch accessible by one road only. A fire would spell disaster.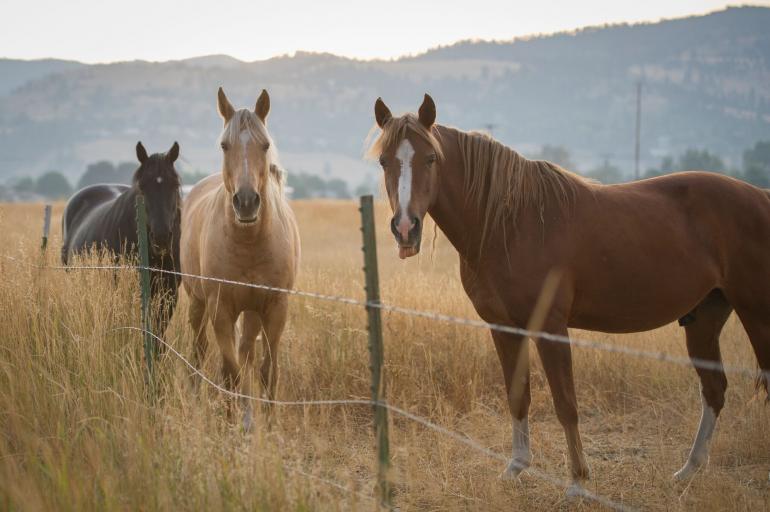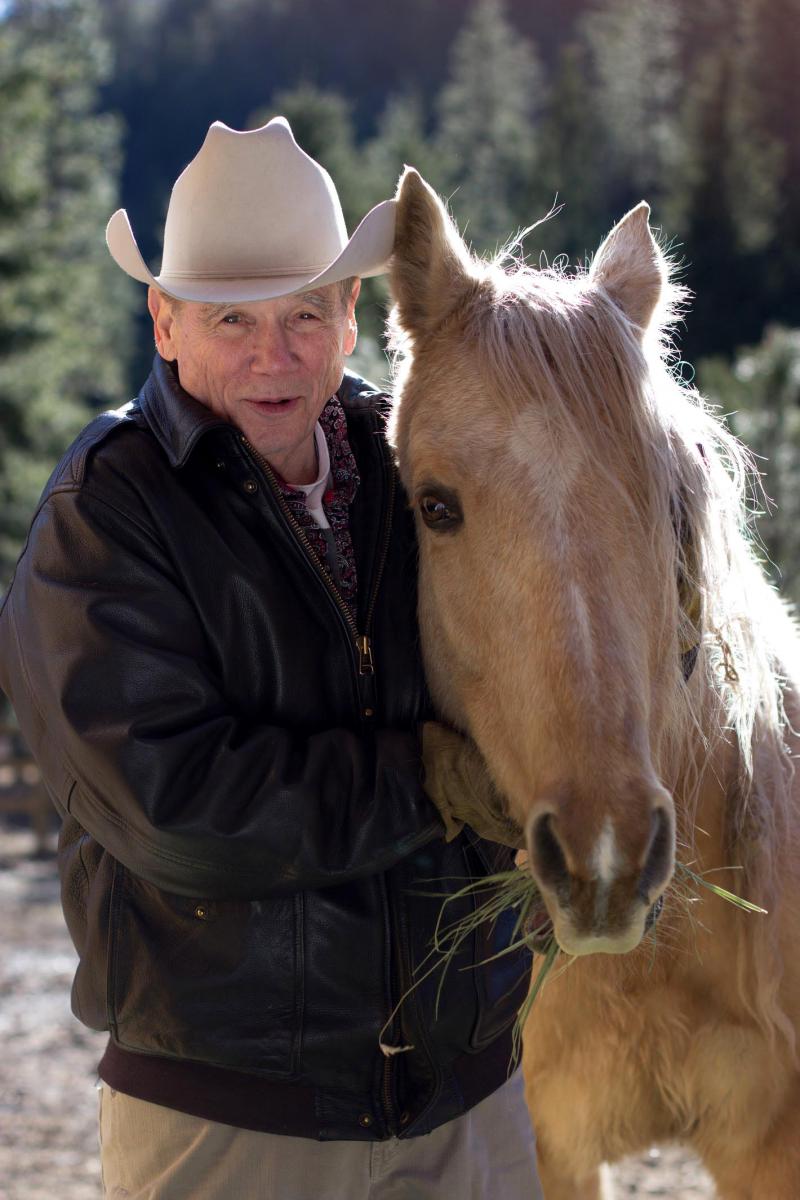 James is a delightful gentleman in his eighties. He is from the New Orleans area and clings to the southern use of the term Miss. I loved being called Miss SuzAnne as we worked together to load his two geldings and one mare into my horse trailer. The geldings were cooperative and stepped right in. But the sleek black mare was much more cautious and less willing to be cajoled. James was patient, deliberate, and devoted to caring for her. Yet he also understood that were the circumstances different, had he waited until this was a true emergency and we needed to hastily exit, he would have had to leave her. Luckily, time was on her side and with a couple of tricks, she got on board.
Sticking together during times of need is second nature to Montana communities. They always rise to the occasion. Telephone trees instantly form, matching available pastures, corrals, and shelters with evacuated animals needing a temporary home. Livestock trailers appear to pick up stranded cattle, horses, llamas, pigs, and goats. Facebook posts, tweets, and emails light up the internet with offers to help, places to sleep, supplies ready to deliver, as well as pleas for assistance. The best thing to do is to jump on these organic networks and get the word out about what you have to contribute. 
Dunrovin has played many distinct roles during past fires. In 2013 a small town of tents and trailers formed in our winter pasture to house the Canadian National Guard who stayed for nearly two weeks to provide support to the Lolo Creek fire. They shared the pasture with evacuated draft horses that were separated by a quickly erected electric fence. Later that same year, a late-night lightning strike shook all Dunrovin's guests as they slept and started a fire directly across the Bitterroot River. Dunrovin suddenly became command central for TV cameras and emergency personal monitoring the fire's progress. Dunrovin set up its irrigation system to spray water over all the buildings, evacuated the horses from the forested areas, and alerted everyone to be ready to leave at a moment's notice. Hours later as the storm passed and the wind subsided, Tess made an appearance. The soft rain drops began to fall and quiet the fire. On my last trip up from the hill from the river to the house, I discovered a pair of green cougar eyes following me. It no doubt swam the river to escape the fire. It was a memorable night!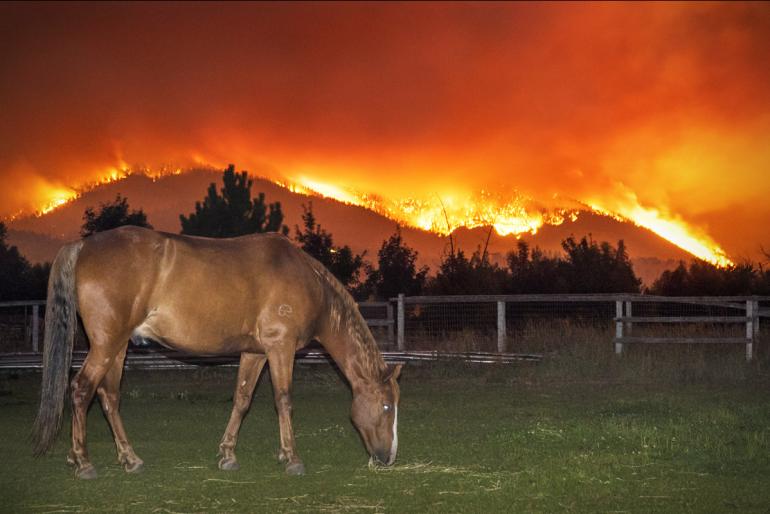 Last year's Lolo Peak fire engulfed much of the Bitterroot Valley. On the Friday night before our planned Equine Art Extravaganza fundraising event, the fire literally lit up the skies and outlined the horizon in an orange blaze, creating some dramatic photographic opportunities. As we watched, we wondered if we could possibly proceed with the event. Our artists had been assembled, tickets had been sold, and we had polished the venue to spic and span perfection in anticipation of the art contest of painting live horses. After spending much of the night monitoring conditions and keeping everything as wet as possible, we woke to eerie hazy skies that were sufficiently free of smoke to proceed.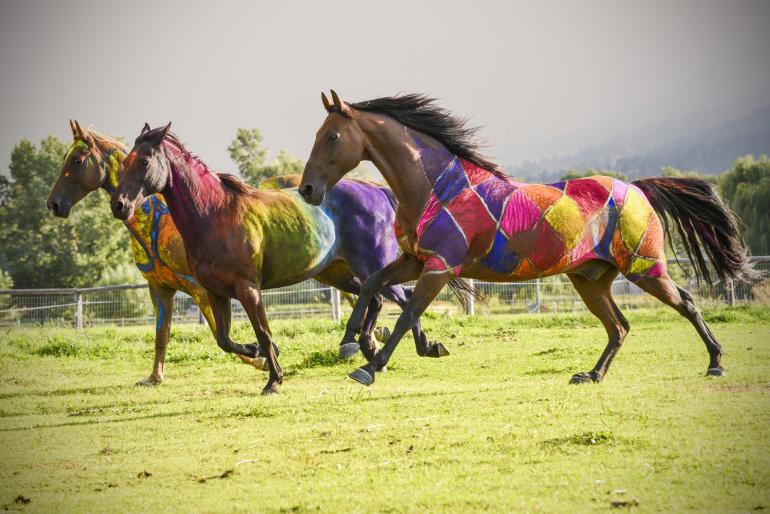 Everyone scrambled to pull it off. The venue needed a second cleaning as ash had settled on every surface. Our caterers had to evacuate their own homes before regrouping at their restaurant with whatever staff was available to work and head in our direction. One of our competing artists had to withdraw so she could assist her parents evacuate their herds of sheep. In the mist of all that turmoil, she made her way to Dunrovin to deliver the lovely hand painted horses that were to serve as our table decorations. The event came together, a testament to the way Montanans face adversity–head on, hands and back ready to work, and lots of spirit to have fun despite all.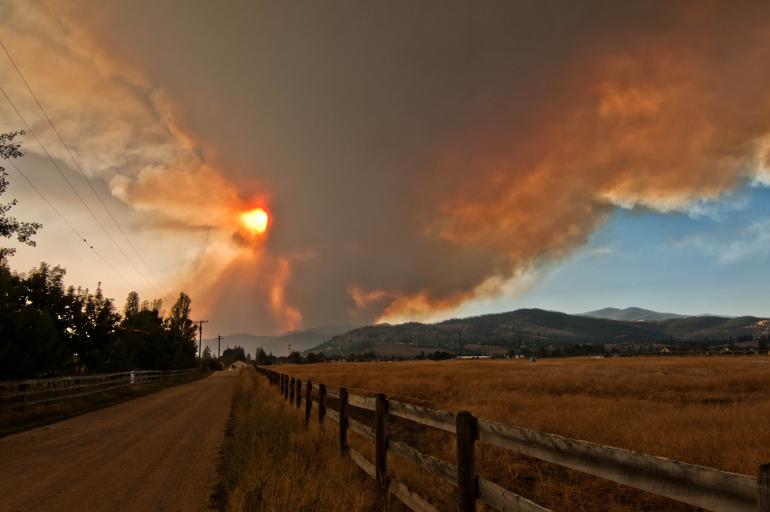 Joe's last summer visit left us with a changed landscape. We who live with the reality of wildfires understand that new life is already taking over. This will be the year for mushroom hunting. The next few springs will explode with wild flowers as the forests glow with the bright pink stalks of the fireweed. Black-backed woodpeckers will hurry in to take advantage of the charred trees. Life always rushes back to clothe the mountains in different colored robes. It will be a wonder to watch.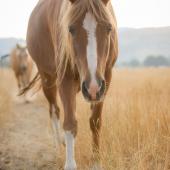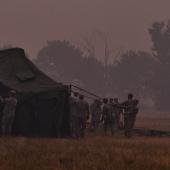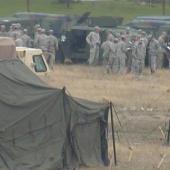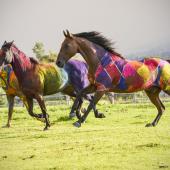 Equine Art Extravaganza.
This year's Equine Art Extravaganza will be held on August on August 18, 2018. Visit DunrovinRanchMontana.com for information.
Caffé Firenze.
Bitterroot Valley restaurant Caffé Firenze did not skip a beat as its owners evacuate their home, continued their catering services, and welcomes firefighters for breakfasts.