Dunrovin Ranch's friend and professional photographer John Ashley is driven by not one, but several passions that push him to extremes in Montana's mountains in the dead of winter, in the darkest of night. John can't help it. He is enthralled with night skies, those that are untainted by the lights of human civilization and showcase the Milky Way, comets, shooting stars, and other celestial wonders that populate man's dreams and superstitions. Dark skies not only draw on his atheistic senses, but tap into his insatiable curiosity and keen interest in science. And overlaying both, is John's deep love for Montana, its landscapes and peoples, and the myths and stories that rise from their union.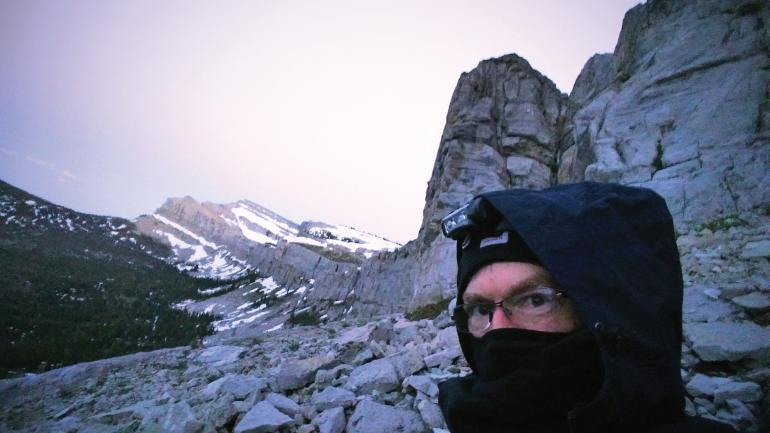 Timeless photography evolves slowly. John studies the movements of the planets and stars, hikes a trail, or hears an Indian prayer. Tidbits from each begin to collect, swirl in his head, and form a cohesive photographic vision of celestial bodies juxtaposed with landscapes as a way to capture the essence, the mood, the beauty, and myths of Montana's mountains and skies. 
Soon the vision demands his full attention, and begins a rigorous, regimented procedure. First, John determines when and where he would need to be in order to bring the landscape and the celestial body together in a single view. He uses several websites to give him the exact locations of the planets, the stars, and the moon on any given night in any given location. Finally, he calendars all the nights when everything will line up perfectly. No matter that many of these nights are during cold winter months.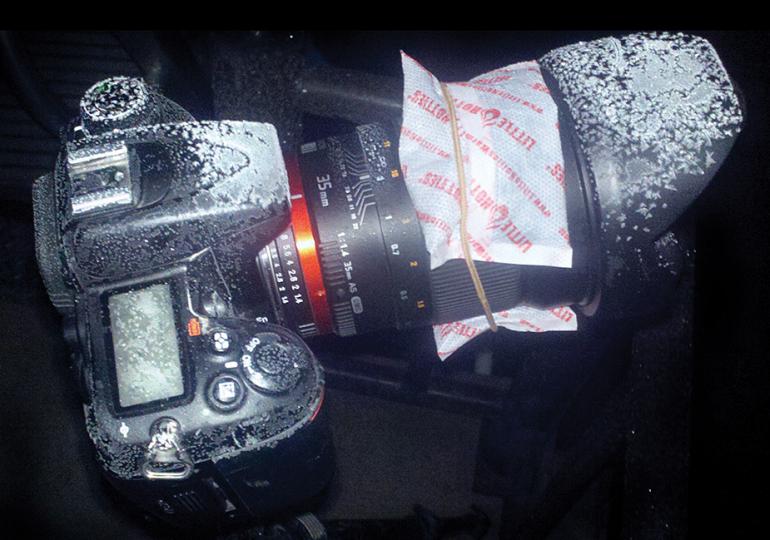 Then he waits. He waits for weather forecasts indicating cloudless skies. One month may pass, so he tries the next, and the next. An entire year passes. Rather than giving up, he carries his vision into the next year. It may take him one year or ten. He persists until the magic happens and he is in exactly the right place, at the right time, with the right equipment for a photo like no other. 
John's book Glacier National Park After Dark took decades to complete. In it, he intertwines the Glacier's mountains and skies with scientific information and essays about the spirits and myths of its first peoples, the Blackfeet Indians. The cold and stillness of Montana's iconic Lake McDonald in winter are readily felt when viewing its cover photo.
That photo was born with the discovery of Comet Lovejoy in 2013. Research concluded that the comet would not be bright enough to photograph until that December. He created a plan, then waited patiently. In late December his radar check at home revealed a perfectly clear sky. Arriving at midnight, he discovered a thick low fog over the lake that was undetectable by radar. So he waited some more. Around 2 a.m. a tiny puff of a breeze broke up the fog on the eastern shore, giving give him a clear view of Mount Brown and the comet.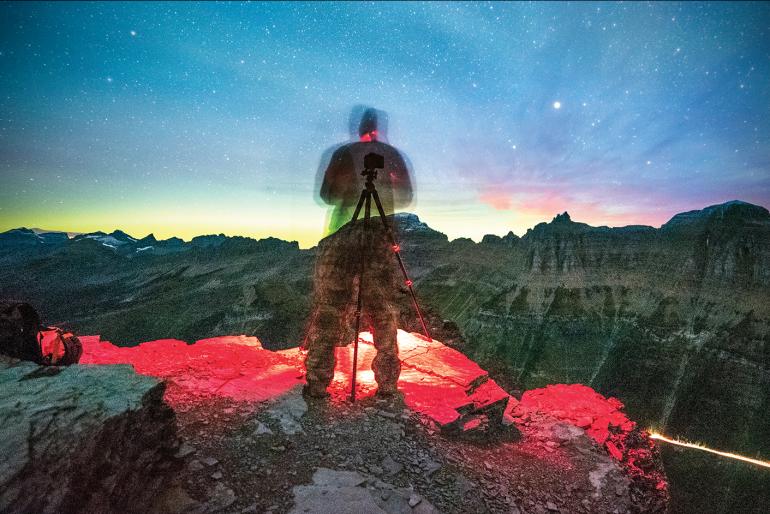 John quickly set up his camera with a wide-angle lens. The night was silent other than the occasional sound of trees exploding from extreme cold. He used rubber bands to hold chemical heat packs to the lens, plus heat packs in his socks, gloves, and every available pocket. Still, he had to run back to his truck every 15-20 minutes to thaw his frozen fingers enough to work the camera. The truck thermometer read -11 F.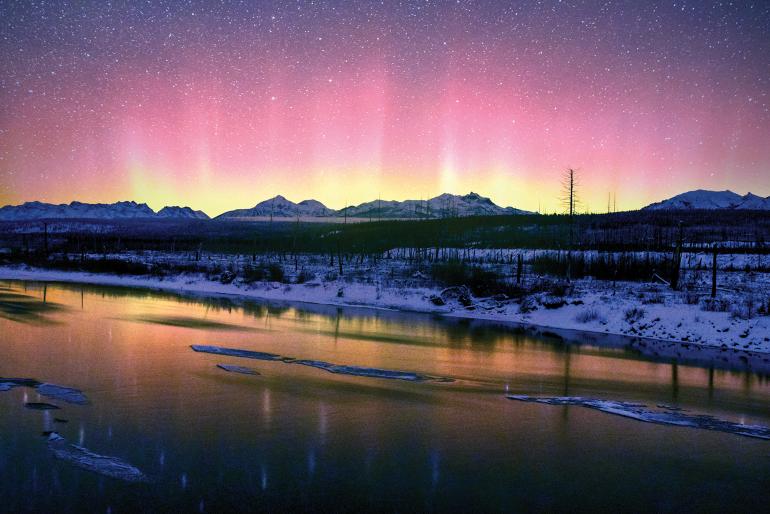 Comets are commonly too dim to see with the naked eye. Lovejoy's was barely visible. To photograph it, John used a very high ISO to make the camera ultra-sensitive to faint light, and shot two rows of four images, left to right (eight images total) over and over as the comet rose towards the top right. After returning home with thawed fingers, he had to stitch the eight images together into one panorama, which was its own computer challenge.
The ISO setting also made the camera pick up some pinkish light pollution from the Canadian town of Cardston, some 48 miles away. The color adds to the image, and isn't visible to the naked eye. However, it soon will be if the growth of artificial light at night continues.
To the northwest, the faint end of the Milky Way is visible over Stanton Mountain. The star low on the horizon reflecting on the lake's surface is Vega, which used to be our pole star instead of Polaris. Vega will return to the pole position in the year 13,727 AD.
The image of the sun setting behind Huckleberry fire lookout was made on New Years' Eve, This photo should have been a piece of cake compared to some of his adventures, as he only had to snowshoe in a couple of miles. It was a balmy 11F when he started; but he made a classic winter backcountry mistake. He got sweaty and removed his coat to air while stomping out a flat area for his tripod. He jumped back into his coat and broke out the chemical heat packs, but it was too late. He started to lose all feeling in his arms and legs. Icicles took root in his veins, forcing him to intermittently stop photographing for deep knee bends and jumping jacks to push back frostbite.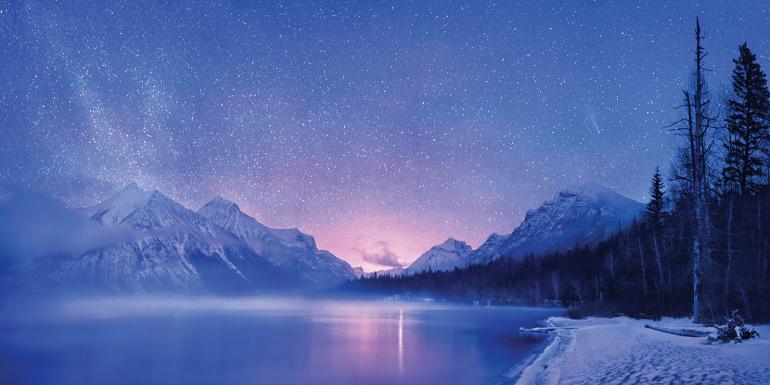 The clouds were thin enough to let the sun shine through the layers. The foreground ridge was recently frosted by a low-hanging fog layer, trimming the trees with a beautiful white rime of ice. John used his orange, astronomers' solar filter to safely point telescopes at the sun, making the final image orange-colored and revealing two sunspots on either side of the sun.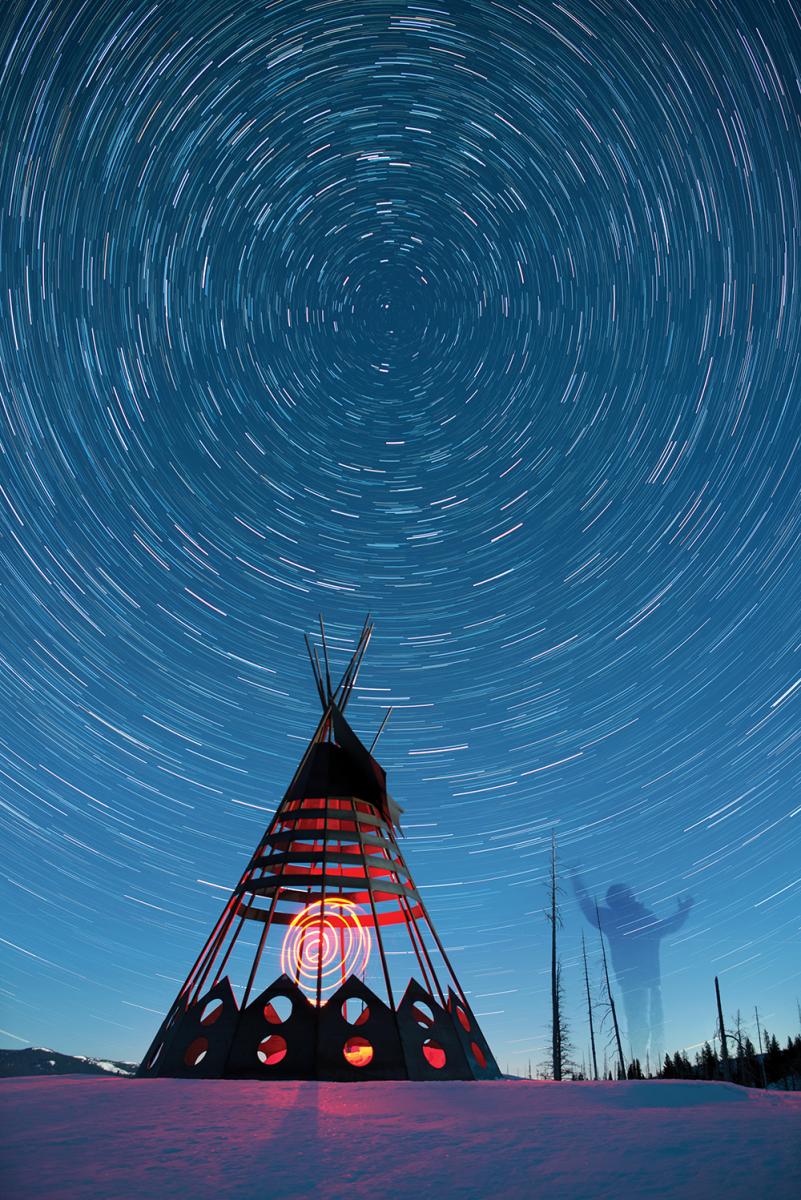 John's Spirit Above, Spirit Within represents a greater, unknowable spirit that is beyond us which we can choose to ignore it, or carry it inside us, inside our homes, and acknowledge its presence without pretending that we understand it. The tipi is near the east entrance to Glacier National Park. With clear skies and fresh snow, John post-holed from the road to the tipi at about 1 a.m. A thin crescent moon painted the night sky blue. He positioned his camera so the north star was directly above the tipi, and programmed it to make consecutive 30-second exposures. He then entered the tipi, turned on a red headlamp and spun it in a spiral to replicate what the stars would eventually look like in the finished photo. Turning off the headlamp, he walked outside to face the moon, raised his arms, and stood motionless for two minutes. He combined all the images to make a ghost image of himself. As he said, "cooperative models are hard to find at 1 a.m. in the middle of winter."
Dunrovin Ranch has shamelessly capitalized on John's passions. His camera is always with him; whenever he visits, he leaves us with images that open up whole new worlds in our own backyard.
Join John Ashley for a four-day photographic adventure at Dunrovin June 12-15. Travel to a forest lookout to study the night sky with John and an astronomer from the University of Montana. Ride horses in search of wild flowers and use the morning and evening light to photograph horses, wildlife, and birds. Cost: $1,289/person, includes food, lodging, activities, and instruction. www.DunrovinRanchMontana.com, (406) 273-7745