Everyone knows that the thermal pools of Yellowstone National Park are very hot - hot enough to kill. Multiple humans and animals have wandered or fell into the thermal pools, and few survive.  They are a powerful reminder of the mysterious forces of nature.  But, despite all of the power and majesty and violence of the thermal pools, you probably have just one looming question: how's the chicken taste?  
We, as Montanans that observe safety and sanity over frivolous culinary schemes, will probably never know.  But several non-Montanans got pretty close. 
This summer, several men were seen carrying cooking implements to a thermal pool, already a no-no because they weren't sticking to the path.  So after hearing about the possible misadventure (the thermal pools are very, very dangerous), a Ranger went to check it out.  What he found were a small group of men, two chickens, and a new innovation in cooking; they were trying to boil the chicken in the thermal feature.  
One of those men has now been banned from Yellowstone National Park for two years.  But that's not what's been bothering us...
The editorial staff of Distinctly Montana have some questions.  Firstly: how long do you boil a chicken in volcano water before it is cooked through?  At that temperature wouldn't it just start falling apart, since the thermal pools can strip the flesh off of a live animal in under a few minutes?
And more importantly to other aspiring chefs out there, could that possibly taste good?  That might depend on how much sulfur you like on your chicken.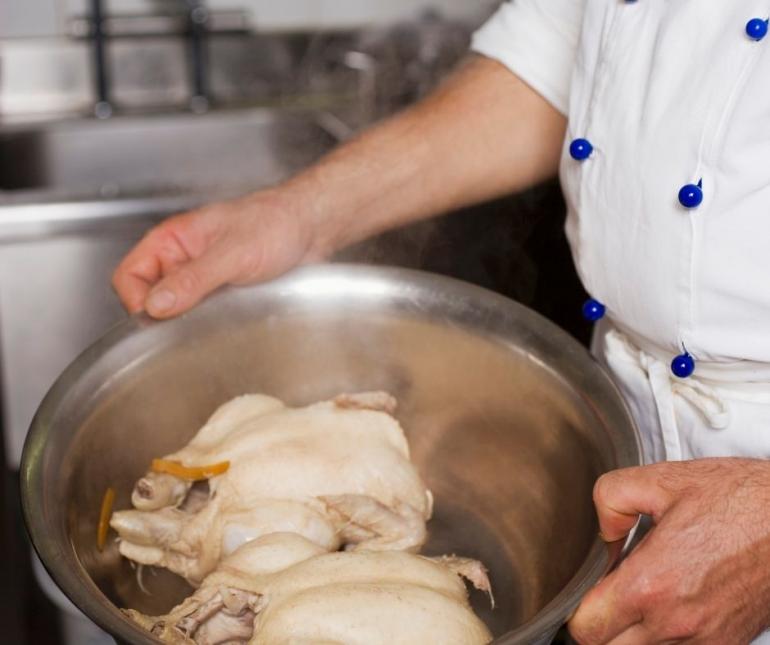 These pioneering gentlemen were unable to glean an answer, as they were cited and fined before they could try their chicken ala volcano. 
Interestingly enough, however, cooking in the thermal features is not unheard of - there is a history, before all of the stringent (and necessary!) safety rules, when pioneers and visitors to the region would enjoy poaching fish in the pools.  And maybe, in the early 19th century, some French trapper fell in, crawled out, and died, enabling a passing bear to enjoy some Stewed Person. 
As an aside, how hasn't this caught on as a trendy new Bozeman-area dining concept?  The Norris thermal system can reach up to 459 degrees Fahrenheit - so how about a fancy gastropub opens up a restaurant that has giant, heavy-duty boiling tanks in the back.  They fill them with acid and sulfur, and set them to a rolling boil hot enough to dissolve flesh.  Finally they drop a few steaks into it, cook them until it's just a loosely held-together amalgam of volcanic sediment and stringy meat, and then they serve it to tourists at $110 a plate.  And call it "Deconstructed Steak, Served Yellowstone Style."  
If that restaurant opens next year, we'll sue your pants off!