In this video, onlookers are delighted when two large moose bulls charge into Georgetown Lake in Montana and go bounding through the water. Halfway through the video, the moose are leaping through the water, doing their best to imitate swimming dolphins.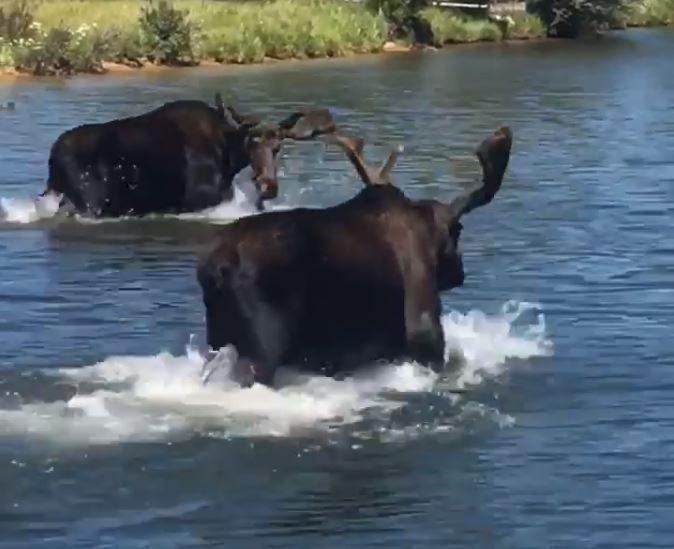 The moose bound through the lake, clearly having a grand time and enjoying a refreshing break on a hot July day. We hope that watching this video makes you as happy as these moose are. Enjoy! 
Moose spend most of their time in meadows and marshy areas. A moose's diet is made up mainly of underwater vegetation. Despite their size, they are also great swimmers. If you see a moose, however, be very cautious. Moose are probably more unpredictable than any other animal in the wild. Watch from a safe distance and pay close attention when you are fishing.
Montana has a greater variety of wildlife than anywhere in the lower 48. It's easy to spot a bison on the road near Yellowstone National Park or a mountain goat on a hike in Glacier National Park. Between the parks fauna is just as abundant.
No matter how cute, cuddly or harmless they make look, it's essential to remember that wild animals in their natural habitat are not pets. Disrupting their natural order can be disastrous for the animals and for you. Being prepared is essential for a safe and rewarding viewing experience and these guidelines and tips are great starting points.